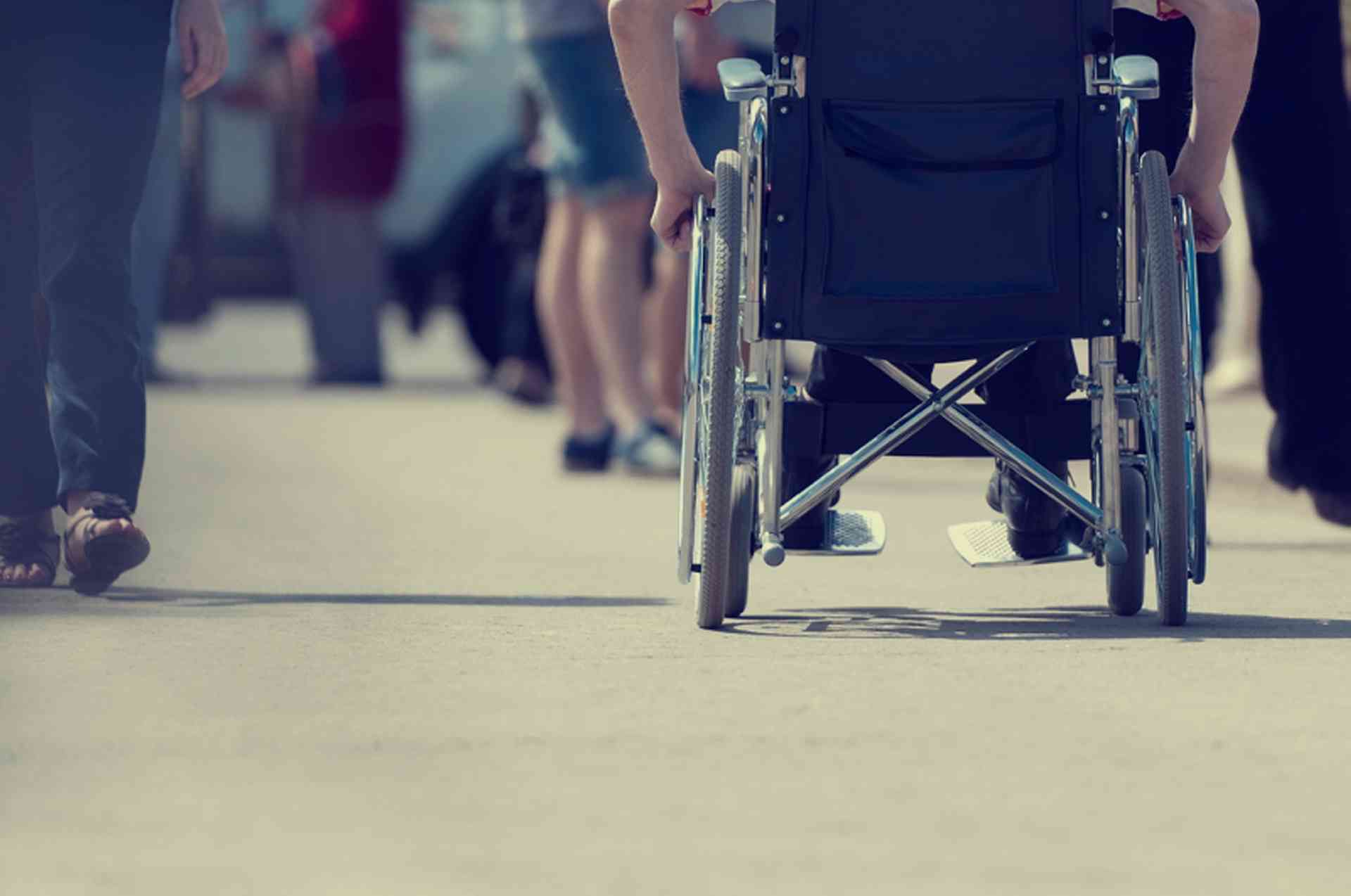 Overview of the facilities, organisations and support available for people with mobility, sight or hearing impairments in Italy...
Disabled Travel and Transport in Italy
Trains
Italian trains have a few reserved seats for wheelchair passengers, though passengers must be able to transfer from their wheelchair to the seat. Otherwise, some trains have compartments that can accommodate a wheelchair.
The Italian Railways offers services to disabled people to assist them during their train journey. These services can be arranged through a Blue Room (Sala Blu), an information point located in 14 main train stations. 251 smaller stations make up the PRM (Persons of Reduced Mobility) Assistance Circuit (circuito di assistenza) which provide more abbreviated services.
Staff at Blue Rooms can provide information, book seats, and arrange for a wheelchair, guide and assistance carrying 1 item of hand baggage. Reservations can also be made by calling the Sala Blu offices, online or via the app.
It is suggested to make special arrangements at least 24 hours prior to travel for international travel and for email requests. Arrangements should be made at least 12 hours in advance for travel between or with connections at Assistance Circuit stations. For travel from 08:00-22:00 between main Blue Hall stations, notification should be given at least 1 hour before departure.
Travellers should arrive at the assistance point in the station no later than 30 minutes before departure.
A special free Blue Card (Carta Blu) provides fare reductions to Italian residents entitled to Italian mobility allowance, including blind people and war invalids. These cards can be obtained from a Blue Hall or station ticket counter.
Italian international airports
EU regulations establish that people with reduced mobility should have free, special assistance when needed in airplanes, airports, baggage check-in and with flight connections. Responsibility has been passed to the airports to accommodate the needs of the disabled traveller. Air companies are at liberty to provide services to people with reduced mobility.
In all major Italian airports there is a special service providing assistance to disabled people: wheelchair service, assistance during boarding and landing. The assistance will be arranged through the airline once the airline is notified by the passenger.
Each airline company has its own internal procedures, describing the type of disability they may accept, as well as the specific services offered on board and on ground. The disabled passenger should always notify the company about their specific needs when booking the ticket. It is also important to be present at the check-in desk at least one and a half hours before boarding.
Bus travel
The website bus.it (in Italian) provides information on companies renting buses adapted to disabled people, by region.
Boats and ferries
The boat companies operating between the continent and the Italian islands have made most of their boats accessible to disabled people. It is necessary to specify the nature of the disability when booking the ticket in order to get specific assistance when going on board.
Among the companies offering special assistance for disabled are:
Corsica Ferriesi
At: Via Angelo Brunetti 25/D, Rome
Tel: 06 3222469
Ferrovie dello Stato, Divisione Navigazione Trasporto Passeggeri
At: Molo Vespucci, 00053 Civitavecchia (RM)
Tel: 0906 786478
Cars and motorways
The accessibility of Italian motorway service areas, restaurants, bathrooms and various amenities to disabled people is under development. On the national and provincial roads, this accessibility varies according to the area. For more information contact the Handicap Documentation Centre (Associazione Centro Documentazione Handicap/CDH).
Parking
Cars parking in disabled parking spaces must display the blue disabled parking card or a European Community blue badge. Contact the local town hall for information on obtaining a blue badge.
The blue badge is a standardised European Community disabled person's parking permit which provides parking entitlements to badge holders in all complying European countries - a blue badge from one country is valid in another. A person coming to Italy from another EU country may find it easier to apply in their home country for this universal badge which allows the use of reserved parking.
Things to keep in mind:
Disabled spaces in car parks reserved for disabled people are marked with a yellow line and a wheelchair symbol; parking is generally free in these spots, check with the parking attendant
Do not park in a space marked with a person's name or vehicle registration number
In an emergency and if not causing an obstruction, disabled parking is allowed on roads where parking is normally prohibited
Do not park in pedestrian zones or ZTL (restricted traffic area) unless local law specifies it is allowed
Disabled drivers may park without time restrictions on roads with parking time limits
Drivers with a blue badge from another European country may display this translation beside a badge written in another language (text from the UK Automobile Association):
Contrassegno d'invalidita per persone disabili
La persona che espone questo
contrassegno e un visitatore
disabile di un altro paese europeo,
che ha diritto alle stesse agevolazioni
dei disabili residenti nel vostro paese.
MODELLO PER LA COMUNITA EUROPEA
General Information and Useful links
Azienda Sociale Locale (ASL): Any person wishing to have their disability recognised in Italy should refer to the local ASL (Rome is divided into 4 ASL). Social invalidity benefits will only be delivered to people holding not just a residence permit but an Italian residence card, which is usually allocated after six years spent in the country. The same will be relevant to families wishing to apply for benefits for a handicapped child
Conzortio Sociale (COIN): The focus of the COIN is the social and economic integration of disabled people
Superabile: A website for disabled people, updated daily, provides useful information and tips on relevant laws, health issues, sport, hobbies and work
Handylex: This is a useful national database containing news from the official paper Gazzetta Ufficiale and legal information and advice relating to disabled people.
Cooperative ProgettAzione is a social project aiming to facilitate the integration of people who are having problems through actions of prevention and training.
Disabili: An online journal and news magazine for disabled, this website is dedicated to handicapped people and provides information, chats, exchanges and discussion forums on various matters (information provided in Italian language)
The Assistive Technology Research and Information Service (SIVA): Provides medical, social and vocational rehabilitation to people with a physical, mental or sensory handicap. SIVA is developing a nationwide information system on assistive technology

Tel: +39 0240308492/ 8283
Information regarding work
The website of the Ministry of Work and Social Affairs (Ministerio del Lavoro e delle Politiche Sociali) provides information on work policies, general social affairs and has a section on disability with relevant information
Handimpresa: Organisation based in Milan, aims to make it easier for disabled people to get jobs. Their website (in Italian) has useful links to help people find a job or a training session
Foundation Don Gnocchi (in Italian): A non-profit board providing care, rehabilitation and social integration for people in difficulty. Amongst its various missions, the Foundation provides training for disabled people in IT, Internet, retail, catering and artisan trades
Hobbies, sport and holidays
The Tourist Board

has information regarding accessible tourism
Sportabili (in Italian) is a non-profit organisation aiming to create contacts and links between disabled people and the rest of the community. The services proposed include skiing, cross-country skiing, hand-biking, rafting, hydrospeed and tennis with special guides for blind people
Disabilincorsa (in Italian) offers several possibilities for disabled people to practice sport; running, cycling, ice-skating, horse-riding, mountains walks and sailing
Centro Internazionale del Libro Parlato (in Italian) produces registered books, in Italian, for blind people
The Italian Library for the Blind (Biblioteca Italiana per i Ciechi) has a website with an exhaustive list of libraries available for blind people in Italy

Calibre Audio Books: UK charity, Calibre, supplies audio books in English on cassette or disk to visually impaired and disabled people. The free service is available to members (registration can be made via the website). Free postal service is available to anywhere in Europe
Italian Associations for the Disabled
There are a number of associations related to reduced mobility and disability. Please note that these organisations operate in the Italian language. There is no guarantee of finding an English-speaker.
Associazione Nazionale Famiglie di Disabili Intelletivi e Relazionli (Anffas): A national association looking after the rights of intellectually disabled people and their families, the Anffas operates in the sectors of education, professional training, work, sport and free-time
Associazione Sclerosi Tuberosa: This association dealing with tuberous sclerosis aims to help the families concerned and provide support for the research into the disease. The association organises meetings everywhere in Italy to provide information on the disease and the latest medical treatments
Unione Italiana dei Ciechi: Association for the integration of blind people into the community. The ALA (Agenzia per la Promozione del Lavoro dei Ciechi) aims to help blind people in the work environment
Associazione Italiana Persone Down: The Italian Association for People suffering from Downs syndrome
Unione Italiana Lotta alla Distrofia Muscolare (UILDM) aims to promote scientific research on muscular dystrophy and facilitate social integration

At

: Via Vergerio 19, 35126, Padua


Whatsapp

: 348 929 2780
Associazione Anni Verdi: An association and support group for physically or mentally handicapped people

At: Avv. Roberto Marraffa, Avv. Paolo Mereu via G.G. Belli, 96 - 00193 - Roma
Tel: +39 063 611 464

Mason Perkins: Fund support for deaf and deaf-blind children
U.C.L.A.I.: Association providing help to disabled people

At: Via Paolo Emilio 24/d, 00192 Rome
Tel: 800 44 00 08