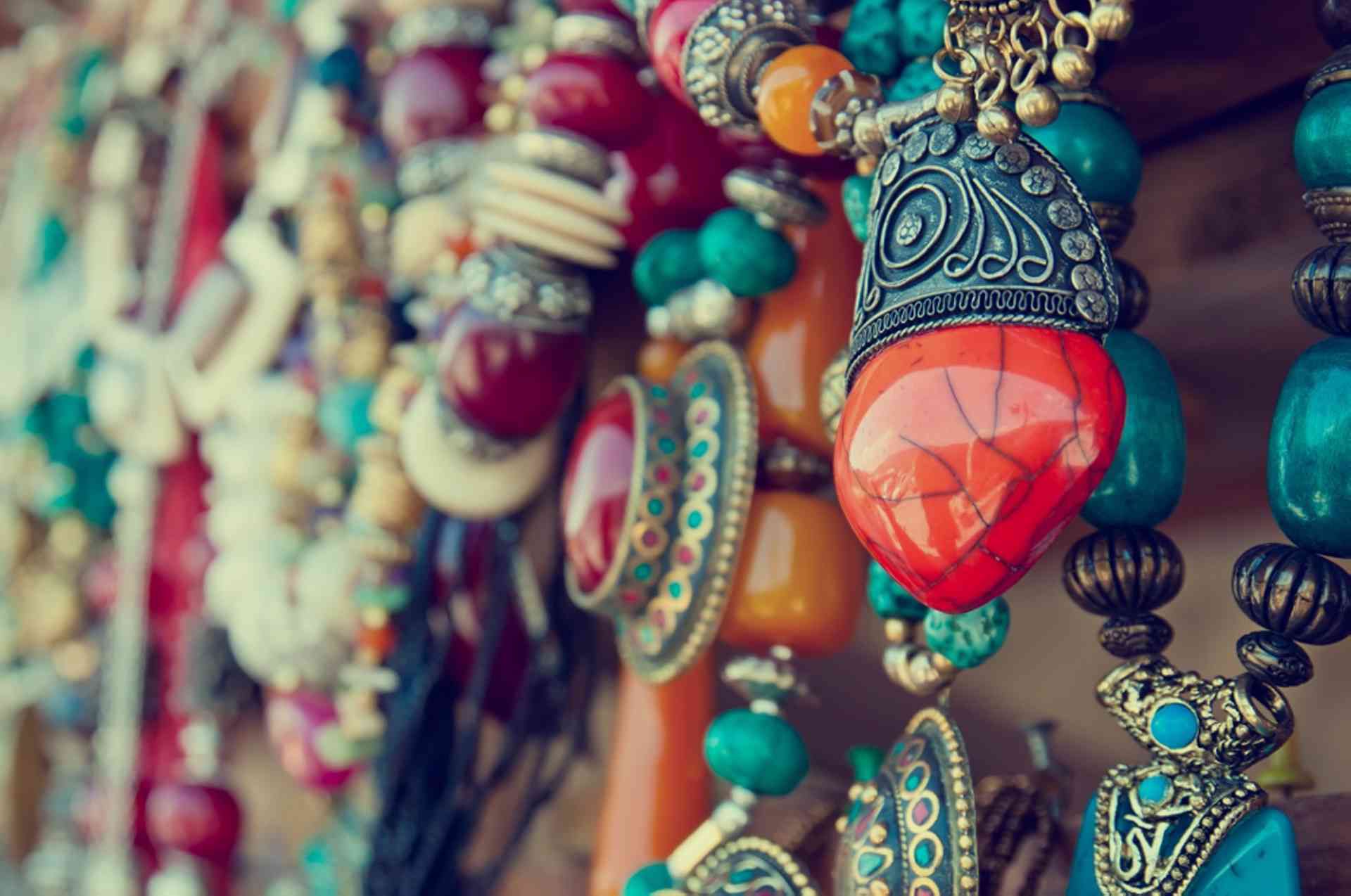 Find out when and where the markets take place in Mexico City, with information about the different types of markets – mercados, tianguis and bazares…
There are nearly 1,500 markets in Mexico City operating on various schedules, from huge wholesale outlets servicing primarily commercial establishments through to smaller street markets. There are two basic categories of market: mercados and tianguis. There are also a number of bazares in the city.
There are also many indigenous markets within driving distance of Mexico City. For information about these, see Regional Tourism.
Bazares are an in-between category of market in Mexico City. Some have permanent structures, while others are open-air. Like tianguis, bazares are only open on certain days of the week, or during particular times of the year. Bazares are generally quite specialized, and their wares tend to include fashion, clothing, antiques, and art.
Mercados sell produce, groceries, and basic household items and there are more than 300 of these markets in Mexico City. Mercados are open daily and set in permanent locations – typically in buildings owned and operated by the local government, with heavily subsidized rents. However, there are a number of mercados that have become known for their speciality goods, such as gourmet foods, spices, or flowers.
Tianguis (pronounced Tee-YAN-geese) are open-air markets with no permanent buildings that operate on specific days of the week only. The stall holders are mostly street vendors who sell many of the same items that can be found in the mercados, although electrical goods, beauty and clothing items are more commonly found in tianguis than in the mercados. As with markets, there are speciality tianguis as well, especially around holidays (for example in the lead-up to Christmas, and Mexico's National Day in September). Although they are very commonly held in neighborhoods without fixed mercados or supermarkets, tianguis may also be set up alongside a mercado one or two days a week. There are currently more than 1,400 tianguis registered in Mexico City.
Many mercados have permanent restaurants on-site, and both mercados and tianguis generally have stalls (puestos) serving typical Mexican dishes such as consommé, quesadillas and tacos, roasted corn, and tortas. Many fruit vendors will offer shoppers a taste of whatever interests them.
Regulation and inspection of goods sold at mercados and tianguis is uneven due to their number, and visitors should be aware that illegally imported, stolen, or counterfeit goods may be sold.
Although some vendors may be able to accept credit or debit cards, it is advisable to bring cash in small denominations. Plastic bags are often available at the point of sale, but shoppers should bring their own bags. Many mercados are close to the Metro – some stations open directly into the building, and some also have established taxi stands.
Mercados
Some of the most popular and important mercados in the city are:
Central de Abastos (in Spanish): One of the largest wholesale food markets in the city, this market brings together food producers, wholesalers, retailers, and individual consumers, and supplies approximately 80 percent of the city's food consumption. Located in the city's southeast, this market attracts more than 250,000 people a day to its more than 2,000 vendors.
At: Av. Canal de Rio Churubusco s/n, Iztapalapa, Central de Abastos
Tel: (55) 5600 1164
Open: Daily, 24 hours
Metro: Aculco (Line 8), then take a public transport minibus (pesero) marked Central de Abastos outside the Metro station
La Nueva Viga (in Spanish): Not to be confused with the older La Viga market, La Nueva Viga is located next door to the Central de Abastos market, and is the largest wholesale seafood market in the city (and second largest in the world), supplying approximately 60 percent of the city's consumption. It is privately owned, and many of its warehouses have a reputation for excellent handling practices. On Saturdays, the market hosts cooking classes, and there are several restaurants on the site.
At: Eje 6 Sur 630 (Trabajadores Sociales), San José Aculco
Open: Daily, 06:00-18:00
Metro: Aculco
Londres Market (Plaza del Angel Centro de Anticuarios): On weekends, antique vendors of all types set up in the corridors of the Plaza in addition to the many stores that are open during the week. Art, jewelry, furniture, books and other collectibles are on display.
At: Londres 161 – Hamburgo 150
Tel: (55) 5511 9595
Open: Monday to Friday 11:00-19:00, Saturday 10:00-17:00, Sunday 12:00 to 17:00
La Merced: Located at the eastern edge of the Centro Histórico, this is the largest retail food market in the city and is spread out over several buildings. The market is known for its traditional Mexican foods and ingredients, sweets and occult items. It also sells a range of household goods. On weekends, tianguis are set up outside the buildings.
At: Calle Rosario S/N, Venustiano Carranza, Merced Balbuena
Tel: (55) 5522 7250
Open: Daily, 05:00-19:00
Metro: La Merced (opens into the market at one end)
Mercado de Artesanías de la Ciudadela (in Spanish): This specialty handicrafts market is located in the Centro Histórico, and features stalls and shops selling locally-made products from all over the country, including glassware, pottery, leather goods, pictures, silver and jewelry.
At: Avenida Balderas y Plaza de la Ciudadela, Col. Centro
Tel: (55) 5510 1828
Open: Monday to Saturday, 09:00-19:00, Sundays 09:00-18:00
Metro: Juarez, Balderas
Mercado San Juan (in Spanish): A speciality market known for its wide selection of gourmet and imported foods and hard-to-find ingredients.
At: Calle de Ernesto Pugibet 21, Col. Centro Histórico
Open: Daily, 07:30-17:00
Metro: San Juan de Letrán, Salto del Agua
Mercado de Sonora (Spanish): Close to the Centro, this market specializes in pottery and dishes, live animals, herbal medicines and items related to the occult. On Saturdays, a tianguis is set up outside the market building.
At: Av. Fray Servando Teresa de Mier 419, Col. Merced Balbuena
Open: Daily, 09:00-19:00
Mercado Jamaica (Spanish): This market sells produce and groceries, but is best known for its flowers (sold cut and in arrangements) and plants.
At: Guillermo Prieto 45, Col. Jamaica
Tel: (55) 5741 1682
Open: Monday to Friday, 08:00-18:00, Saturday and Sunday, 07:00-19:00
Metro: Jamaica
Mercado Escandón: A popular market, with produce and groceries.
At: Corner of José Martí and Agricultura, Col. Escandón
Open: Daily, 08:00-18:00
Metro: Patriotismo
Mercado de Calzado: Known as La Central, this market specializes in all type of shoes.
At: Calle Aluminio, between Bonanza and Aviadero, Col. Felipe Ángeles
Open: Daily
Metro: Consulado, Canal del Norte
Further Information
CuidadMéxico.com.mx has compiled a list of mercados organized by location (in Spanish)
Mi Mercadito's twitter feed provides up-to-date information about

mercados

in the city (in Spanish)
Del. Benito Juárez maintains a detailed of mercados in the district (in Spanish)
The CDMX maintains a list of public markets on the SEDECO website (in Spanish)

Tianguis
There are over 1,400 tianguis in Mexico City, which are often set up in or around neighborhood parks on weekends.
Popular tianguis in Mexico City include:
Parque Lincoln
At: Calle Aristotoles, between Emilio Castelar and Luís G. Urbina, Polanco
Open: Saturdays
Metro: Polanco
Jaime Balmes
At: Av. Jaime Balmes, between Homero and Eje. Nacional, Polanco
Open: Tuesdays
Metro: Polanco
Parque Alexander Pushkin
At: Av. Cuauhtémoc at corner of Morelia and Alvaro Obregón, Roma Norte
Open: Sundays
Metro: Niños Heroes
Corredor del Arte
At: Alvaro Obregón, Roma
Open: Saturdays and Sundays, 11:00-18:00
Metro: Niños Heroes, Insurgentes
Pachuca
At: Pachuca 10, Condesa
Open: Tuesdays
Metro: Chapultepec
Antigua Taxqueña
At: Calle Antigua Taxqueña, between América and Real San Lucas, Coyoacán
Open: Tuesdays
Metro: Tasqueña
Las Flores
At: Las Flores, between Real de Los Reyes and Reforma Política, Coyoacán
Open: Thursdays
Metro: Tasqueña
There are a number of popular specialty tianguis in the city, which include the following:
Mercado el 100 (in Spanish): Specializing in organic and locally-sourced products, this tianguis alternates between several locations. Information about locations, hours, products and sponsored events can be found on the website. A regular newsletter with updates is available. It is open Saturday and Sunday, with hours dependent on location; consult the website for current schedules.
Tianguis Orgánico Ciudad de México: Specializes in organic and locally-sourced products, also organizes courses and workshops.
At: Dispensario del Valle, Nicolás San Juan 616, Col. De Valle
Open: Sundays, 10:00-15:00
Metro: Eugenia, Plaza de la Transparencia
El Tianguis Cultural del Chopo (in Spanish): Known as El Chopo, this tianguis specializes in music, CDs, magazines, clothing, and collectables. Features live music.
At: Calle de Aldama, beginning at Calle de Sol and ending at Calle de Luna
Open: Saturdays, 11:00-17:00
Metro: Buenavista
Further information
Certain Delegaciones have comprehensive lists (PDF in Spanish) of tianguis in their jurisdiction:
ARCA reviews several tianguis specializing in second-hand clothes
Bazares
Some popular bazares include:
Bazar del Sabado (often referred to as the San Angel Market): This bazaar takes place in two squares, with a separate handicrafts market operating at the same time. Local artists display their work in alleys in the squares. There are also many interesting and original shops in the area as well as traditional restaurants.
At: Plaza San Jacinto, Col. San Angel, Del Alvaro Obregon
Tel: (55) 5616 0082
Open: Saturdays, 09:00-18:00
Transport: Metro Miguel Angel de Quevedo (line 3), or Metrobus Line 1 (Insurgentes) to Altavista. Then walk south along Revolución southwards until you reach the market on the right
Bazar de Músico: This street bazaar focuses on used musical instruments and accessories; instrument exchanges are common.
At: Calle Cerro del Músico, Coyoacán
Open: Tuesdays, 09:00-18:00
Metro: Tasqueña
Bazar Fusión (in Spanish): Casa Fusión, a popular design house features Mexican fashion designers, and organizes a bazaar every weekend around a changing theme.
At: Londres 37, Zona Rosa, Col. Juárez
Tel: (55) 5511 6328
Metro: Insurgentes
La Lagunilla: This bazaar is in keeping with the flea market tradition; just about anything can be found at La Lagunilla – antiques, second-hand clothes and knick-knacks of all descriptions.
At: Calle Comonfort, between Reforma and Eje 1 Norte
Open: Sundays, 09:00-18:00
Metro: Garibaldi, Lagunilla
Bazar de Hipsters: This street bazaar sells everything from art to antiques.
At: Camellón, from Álvaro Obregón to Monterrey, Col. Roma
Open: Saturdays and Sundays, 09:00-16:00
Further information