Notes for the Disabled in the Netherlands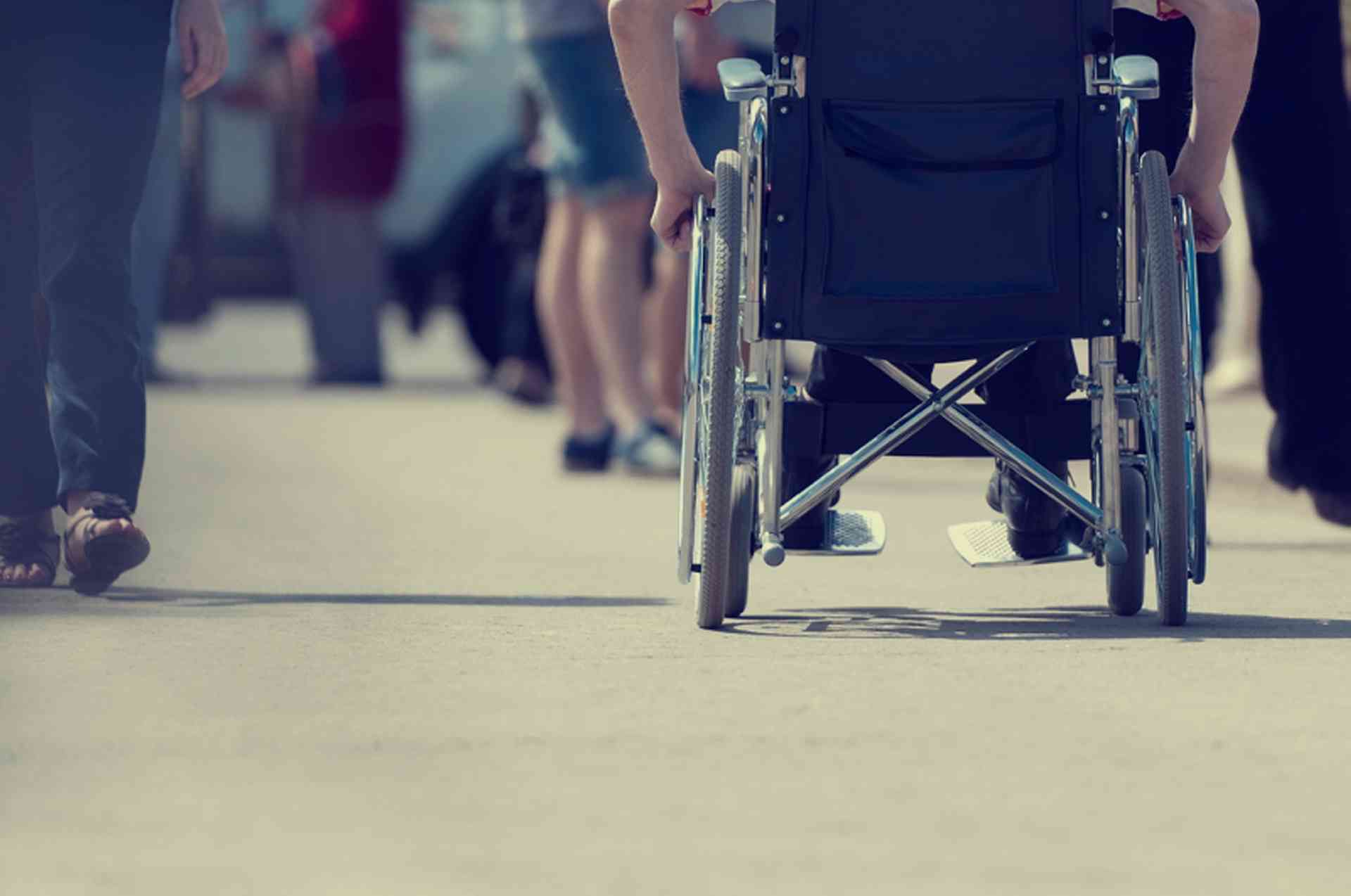 Overview of the facilities, organisations and support available for people with mobility, sight or hearing impairments in Holland...
According to Article 1 of the Dutch Constitution, discrimination on any grounds is prohibited in the Netherlands. The Act on Equal Treatment of Disabled and Chronically Ill People, managed by the CG-Raad, came into effect on 1 December 2003. This law gives disabled people the right to the adaptations necessary to enable them to participate fully in society.
Below find information on:
Benefits for People with Disabilities
The majority of care facilities and services for the disabled are funded through public health insurance, through the Exceptional Medical Expenses Act (AWBZ), which provides entitlement to expensive long-term health care.
Care, support and treatment are provided to people with mental disability, psychological problems, epilepsy and those with non-congenital brain damage.
The Domiciliary Care Institutions (there are about 142 of these in the Netherlands) are able to provide additional care and assistance to people with a physical or mental disability who are living independently or with their parents or carers.
The Act on Facilities for the Disabled allows the disabled to apply for various adaptations to their houses or means of transportation.
The Disablement Benefits Act (WAO) and the Self-Employed Persons Disablement Benefits Act (WAZ) provide special benefits to employees and self-employed people who become disabled.
The Disability Reintegration Act (REA) provides for disabled people needing help to re-enter the job market.
Disabled Children
Apart from child benefits, a specific allowance is provided to parents who wish to keep a disabled child at home. The child must be between 3 and 17 years of age and in need of constant care and supervision resulting from one or more mental or physical disorder.
Above the age of 18, a child may claim a specific benefit, in accordance with the Disablement Assistance Act for Handicapped Young Persons (WAJONG), the amount allowed depending on the degree of disability.
Disabled Travel and Transport in the Netherlands
Over recent years much effort has been made to improve accessibility: access to trams and buses has been improved, ramps are now present on roads. However, in older cities, such as the capital Amsterdam, access for people using a wheelchair is still complicated. Most museums, government buildings and train facilities have been modified.
A local district office can supply information on adapted transport for its area.
Driving and the disabled
Disabled drivers in the Netherlands of vehicles with more than two wheels, who have a valid disabled parking badge, are exempt from the following parking restrictions:
Parking in a parking disk zone
Parking on a single unbroken yellow line
Parking under a sign E1
Parking in a recreation area
In all these cases, the person must clearly display a parking disk or badge in the parked vehicle.
Parking badges for the disabled that are issued by competent authorities outside of the Netherlands are considered to be the equivalent of Dutch disabled parking badges.
The blue badge is a standardised European Community disabled person's parking permit, which provides parking entitlements to badge holders in all complying European countries - a blue badge from one country is valid in another. A person coming to the the Netherlands from an EU country can apply in their home country for this universal badge, which allows the use of reserved parking.
Things to keep in mind:
Disabled spaces in car parks reserved for disabled people are marked with a wheelchair symbol
Do not park in pedestrian zones or spaces marked with a person's name or vehicle registration number
Disabled drivers may park for an unlimited duration on streets where parking is free but limited by time restrictions
When no other options are available, disabled drivers may park for up to 3 hours on streets where parking is prohibited as long as the roadway is not obstructed
Drivers with a blue badge from another European country may display this translation beside a badge written in another language (text from the UK Automobile Association):
Parkeerkaart voor gehandicap.
De persoon die deze
parkeerkaart vertoont is een
gehandicapte bezoeker uit een
ander Europees land, die tijdens het parkeren recht
heeft op dezelfde tegemoetkomingen als een gehandicapte ingezetene van uw eigen land.
EU-MODEL
Mobile phones: The use of mobile phones whilst driving is forbidden for all drivers in the Netherlands: this also applies to persons driving an invalid carriage.
Trains
The Dutch Railways (Nederlandse Spoorwegen - NS) provides for physically disabled and wheelchair bound, hearing and sight impaired passengers at most stations. Special facilities include removable bridges for wheelchairs, guidelines for the visually impaired and plug-in sockets for hearing aids at ticket counters (the connecting cord is not supplied; the hearing aid user must buy their own).
Train schedules are available to hearing and sight impaired people in spoken text, Braille and digitally; the website accommodates digital Braille readers.
Sight impaired: information on schedules Tel: 0486 486 486
Hearing impaired: information on schedules Tel: 0900 555 9292
Trains are accessible to most wheelchairs, although some restrictions are applied to width and weight. Fuel-based motor vehicles are excluded from trains, but special scooters may sometimes be allowed depending on the time of day and number of people travelling.
When required, special assistance can be pre-booked on trains. Book at least three hours before the journey by calling the Disabled Assistance Office (Bureau Assistentieverlening Gehandicapten). A time and place to meet will be arranged.
Bureau Assistentieverlening Gehandicapten
Tel: 030 235 7822
Fax: 030 235 3935
Open daily: 07:00-23:00 (from 08:00 on public holidays)
People regularly travelling with a carer may apply to the NS for a Public Transport Assistant Pass (OV-Begeleiderskaart), which allows free transport for the carer. This pass is given in the name of the disabled person so the carer can be a different person for each journey. Please note that travelling with a carer and holding an OV pass will reduce access to NS assistance services.
People travelling with a seeing-eye dog in trains, train-taxis or other forms of public transport do not pay any supplement.
For free assistance at railway stations contact the NS:
Buses and vans
Adapted buses and vans can be booked in advance in most local areas. For transport between regions which are not covered by train, there is a system called Valys.
Valys (in Dutch)
Tel: 0900 9630
For information on collective transport on demand (Collectief Vraagafhankelijk Vervoer) contact by text-telephone:
Airports
Eindhoven Airport (EIN): For general assistance at Eindhoven Airport, call the free service:
Car park at Eindhoven: Special parking places are available at the P1 car park of Eindhoven airport, indicated by the international symbol for the disabled. A disabled parking permit needs to be clearly displayed in the windscreen. When returning to Eindhoven Airport after a trip, the disabled parking permit and parking card should be presented at the information desk to be charged the lowest parking rate (for long-term parking).
Wheelchair services: Free wheelchairs are available at Eindhoven Airport for those who have difficulties walking within the airport. The airport or travel agent needs to be advised if a wheelchair is required at least 48 hours prior to departure. The airport has lowered curbs and toilet facilities for those in wheelchairs.
Maastricht Aachen Airport (MST): For general assistance at Maastricht Aachen Airport, call the free service:
Car park at Maastricht Aachen Airport: Special parking places are available at the P1 car park of Maastricht Aachen Airport, indicated by the international symbol for the disabled. A disabled parking permit needs to be clearly displayed in the windscreen.
Wheelchair services: Free wheelchairs are available at Maastricht Aachen Airport for those who have difficulties walking within the airport. The airport or travel agent needs to be advised if a wheelchair is required at least 48 hours prior to departure.
Amsterdam's Schiphol Airport (AMS): All areas of Schiphol airport are wheelchair accessible and disabled parking is available for any vehicle displaying the special permit.
Rotterdam-TheHague Airport: The airport is fully accessible for wheelchairs and special arrangements may be made in advance for other needs.
Accessibility of computer use
Stichting Accessibility provides information for blind and visually impaired persons on accessible computer use
Vilans (in Dutch) is a national, independent centre. It collects knowledge and expertise concerning information and communication technology (ICT) for disabled people. It also develops and distributes its expertise
Leisure
The Staatsbosbeheer website shows nature reserves accessible for wheelchair users, together with a list of facilities present in each nature reserve
Dinnersite lists wheelchair-accessible restaurants in the Netherlands, listed by province and place name. The site shows which establishments are wheelchair accessible and whether the toilets are likewise accessible. Additional information on parking facilities and public transport (in Dutch and English)
The Foundation for travelling for physically disabled people

(in Dutch) organises trips to far away countries



Picture Holidays (in Dutch) will search for holiday destinations and accommodation for disabled people
Stichting Sailability (in Dutch) offers information and a list of locations where sailors with a disability can cast off
Information in English on accessible holidays in the Netherlands

Other associations
Calibre Audio Books: UK charity, Calibre, supplies audio books in English on cassette or disk to visually impaired and disabled people. The free service is available to members (registration can be made via the website). Free postal service is available to anywhere in Europe.
Useful Information and Links
Advice Line for the Visually Impaired

Tel: 030 294 5444
Association for the Deaf and Blind (in Dutch)
Tel: 034 344 2744
Text-phone: 034 344 3232
Tel: 030 297 0404
Text-phone: 030 291 6600
Open: 09:00–13:00 Monday to Thursday, 09:00–12:00 Friday
email
MEE: organisation for people with disabilities - in Dutch
Tel: 0900 999 8888
Nederlandse Spoorwegen (Dutch Railways) - to book assistance on trains
Tel: 030 235 7822 / 0900 1462
Fax: 030 235 3935
Text telephone for general transport information
Tel: 0900 555 9292
Valys (in Dutch) - regional assisted transport
Tel: 0900 9630