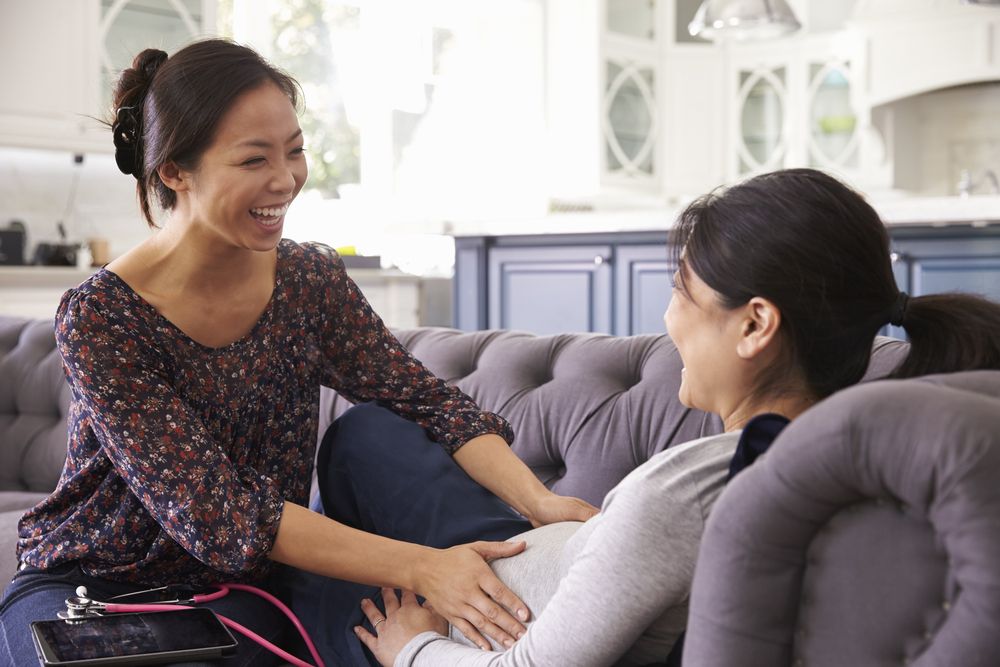 What to consider and do before the birth, including how to select an obstetrician or gynaecologist, the screens and checks that can be performed and how to enjoy your pregnancy in Singapore...
All obstetricians and gynaecologists in Singapore are certified and accredited by the Specialist Accreditation Board (SAB) of the Ministry of Health. Unlike the situation in some developing (and even some developed) countries, the chance of encountering someone faking their credentials is extremely remote, as the community is small and the penalties severe.
A pregnant woman and her partner may make appointments to meet with and interview prospective doctors or rely on recommendations from friends and family. The choice should be based on the comfort and rapport with a doctor. When first meeting a doctor, take a list of recent medications including supplements and creams, and a checklist of expectations and queries.
Most specialists allow for birth plans but few would do so at the expense of the safety of the mother and/or child. Doulas or birthing companions are also seeing an increasing growth in demand for their services and many of them deliver these services in collaboration with a certified obstetrician.
Pregnancy Investigations
Blood tests
Pregnant women are routinely screened for blood count, infectious diseases and AIDS. Most foreign patients will undergo rubella testing and Rhesus status assessment as well. Other high risk patients may also have to undergo additional testing for other conditions, such as diabetes, depending on their underlying risk factors
Genetic tests
Facilities for screening for Down's Syndrome and other chromosomal abnormalities are widely available in Singapore. The usual tests offered to pregnant women include either the First Trimester Screening Panel, which consists mainly of blood tests and a scan of the foetus' nuchal fold at around 10 to 14 weeks; or the Triple Serum Test which is a blood test done at 18 weeks. Women who screen positively for either test are considered to be in the high risk group, at which point a definitive test, usually via amniocentesis is offered.
Ultrasound
Routine ultrasound scanning is widely practiced in Singapore as it is a perfectly safe and useful method of checking the baby's growth and well-being, and is also a good conduit for parent-child bonding during pregnancy. Routine detailed screening for developmental and structural abnormalities is usually carried out at around 20 weeks.
Some clinics also offer 3D scan which renders a 3-dimensional image of the baby's face; and even live 3D (or "4D") which displays a 3D video of baby moving. This is to be distinguished from older methods of software rendering, which is a delayed rendering process using 2D machines and which frequently produces a less satisfying image.
Prenatal and Delivery Packages
A one-off fee is paid for obstetric packages in order to simplify the payment process and also to increase the value of the services. Obstetric packages usually consist of a prenatal package which covers the visits to the gynaecologist and the routine ultrasounds; and a delivery package which covers the birthing. Package inclusions and their prices naturally vary from practice to practice.
The cost of the use of the delivery suite, hospitalisation and equipment used in the hospital will not be included in this one-off package but will be charged separately by the hospital. There is also an additional charge for assisted (instrumental deliveries) and caesarean sections.
Permanent residents and citizens of Singapore have a portion of the costs reimbursed through the Central Provident Fund (CPF), a compulsory fund to which both groups contribute monthly.
In Singapore, a general health insurance plan (local health insurance) does not cover normal childbirth delivery although it does cover pregnancy complications (for example ectopic pregnancy) if they arise. It is possible to buy health insurance to cover childbirth, however this is more expensive than standard cover and the insurance provider generally requires the insured to have held the policy for a certain time before becoming pregnant. There are some prenatal insurance policies in Singapore, where insurance can be bought from as early as week 18 of the pregnancy. They cover up to 18 congenital illnesses and eight pregnancy complications.
Enjoying Pregnancy in Singapore
For uncomplicated pregnancies, most doctors would not discourage an active lifestyle. There are many antenatal and lamaze classes available, as well as yoga centres and swimming pools. Many fitness centres and gyms will also have a program tailored for pregnancy.
The Singaporean diet is now so varied and cosmopolitan that it is difficult to isolate any one portion of the cuisine that may be harmful. Most Singaporean-styled hawker food, other than being a little high on the caloric meter, is safe for pregnancy. Nonetheless pregnant women should probably be wary of anything that is raw, that contains soft cheese, or that may have been cooked in unsanitary conditions.
The weather in Singapore, though unbearably hot and humid on occasion, has no significant impact on pregnancy. Most sunblocks and sunscreens are also not toxic to pregnancy, and very important for skin protection, especially Caucasian skin.
Recently published books on pregnancy are available in one of the bookstores in downtown Singapore or online from suppliers such as amazon.com and barnesandnoble.com.
Further Information
Information confirmed and contributed to by Doctor Kenneth Wong The OBGYN centre, 290 Orchard Road, The Paragon, #11-07. Singapore 238859 Main Line 6235 4188, Appointment hotline 9100 3874, Fax: 6235 8408 /email /Website Copyright © 2007-2009 The OBGYN Centre All Rights Reserved Copyright property of the OBGYN Centre Pte Ltd. No reprinting permitted without permission