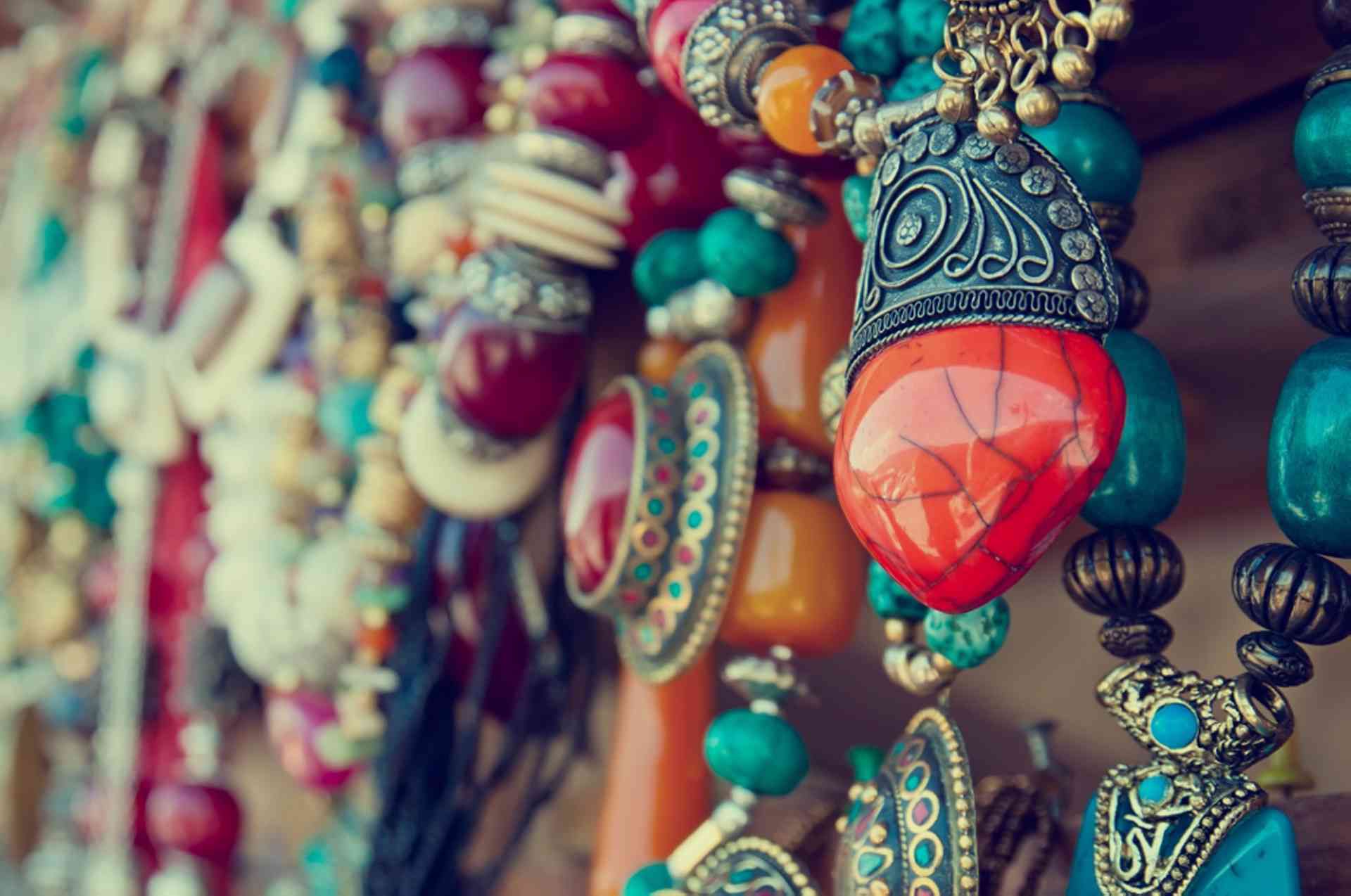 Information on markets and places to shop in Taipei...
There are numerous markets throughout Metropolitan Taipei, including not only the famous night markets and traditional wet markets (for fish and fresh produce), but also fish markets, flower, jade, craft and antique markets. Shoppers should be on the alert for pickpockets.
Antiques Markets
Zhao He Ting Antiques Market: Yongkang Street used to be called Zhaoheting Street when Taiwan was a Japanese colony. It now has over 20 antiques shops, which feature a variety of antiques from the colonial period, such as lights, posters, toys, ornaments and furniture. The best time to shop is after 17:00.
At: 60 YongKang Street, Da'an District, Taipei City
Open: Every day 14:00-22:00
Treasure Hunt Flea Market: Near Guting MRT station, this is the largest second-hand store in Taipei and stocks about 30,000 vintage items from around the world. A vast range of products is on display, from old photos, postcards, toys and clothing, jewellery, and typewriters to traditional Chinese-style wooden window screens and other furniture.
At: 38 Roosevelt Road, Section 2, Taipei City
Open: Every day 11:00-21:00
Electronics
Guanghua Market: Guang Hua Digital Plaza is a well-known consumer electronics' market, which features a wide variety of products at reasonable prices. The six-storey building has hundreds of shops selling computers, electronic gadgets, cameras, computer parts and music players. Vendors from the old Guanghua Market are located on the second and third floors. Specialist repair shops can be found on the top floor.
At: Corner of Xinsheng North Road and Civic Boulevard (MRT Zhongxiao Xinsheng Station)
Open: Monday to Sunday 10:00-21:00 (closed twice monthly, with varied times for each store)
Night Markets
Night markets offer a variety of authentic Taiwanese food, snacks and drinks. Popular choices are sausage wrapped in glutinous rice, oyster omelette, stinky tofu, fried chicken fillet and boba milk tea. Besides food, there are also other products for sale, such as clothing, cosmetics, shoes, accessories, toys and CDs.
For a comprehensive list of Taipei's night markets: Click here
Other Markets
Di Hua Traditional Dried Goods' Market: Dihua Street in Taipei's Datong District is the oldest and most popular place to shop for Chinese New Year's goods. The street is characterised by a mix of architectural styles - traditional Fujian, Baroque and western buildings. There is a huge selection of dried food, fabrics, incense, New Year decorations, bamboo and wooden crafts, Asian candies, Chinese medicines and herbs, Chinese and Japanese snacks, spices and teas.
At: Min Sheng Road and Di Hua Street, Section 1 (Nanjing West Road and Guisui Street) Datong District, Taipei City 103
Open: Every day 10:00-19:00 (individual stores may vary)
Herb Market: This is a small alley next to the Long Shan Temple in Wanhua District, known as Herb Lane due to the large number of herbal shops. There are sacks of dried herbs and fresh herbs, as well as hundreds of different kinds of spices. Store owners are herb specialists and able to answer questions relating to each herb's characteristics and function. The herbs on sale are used not only in recipes but in preparation of tonics and medicines. Monday is the best day for fresh herbs.
At: Xichang Street, Wanhua District, Taipei City
Open: Monday to Saturday
Jianguo Jade, Flower and Artists' Market: This market is characterised by its many stalls selling jade, semi-precious and precious stones, jewellery and religious items, as well as a vast range of flowers, plants, trees, cacti and garden supplies. Also on offer are handicrafts, traditional Chinese paper lamps, glass blowing, calligraphy and hand-carved furniture, tea, dried fruit, nuts, snacks and some local organic produce.
At: Jade section - south of the intersection at Zhongxiao East Road and Jianguo South Road; flower section - south of the jade section and across Renai Road; artists' section - south of the flower area
Open: Weekends 09:00-18:00 (individual stores may vary)
Fuji Seafood Market: Approximately 45 minutes from Taipei, Fuji Fishing Harbour is near the North Coast Highway. Fresh seafood is displayed and sold to both the public and harbour restaurants.
At: Fuguijiao, Shimen District, New Taipei City
Refurbished Furniture
Taipei's Department of Environmental Protection repairs abandoned furniture in the interests of re-using resources and protecting the environment. Auctions are held at three Refurbished Furniture Exhibition Centres. Popular items are cabinets, tables, chairs, sofas and bicycles.
Wanhua Refurbished Furniture Exhibition Center
At: 102 Huanhe South Road, Section 2, Wanhua District, Taipei City 108
Tel: 02 2308 2600
Open: Friday 10:00-17:00 (auction begins at 11:00)
Wenshan Refurbished Furniture Exhibition Center
At: 1F, 31 Xinglong Road, Lane 105, Section 4, Wenshan District, Taipei City 116
Tel: 02 8661 0929
Open: Saturday 10:00-17:00 (auction begins at 11:00)
Neihu Refurbished Furniture Exhibition Center
At: 1 Xingzhong Road, Lane 187, Neihu District, Taipei City 114
Tel: 02 2796 2062
Open: Sunday 10:00-17:00 (auction begins at 11:00)
Morning Markets
Every district in Metropolitan Taipei has at least one morning market. They are a combination of farmers' markets and traditional wet markets, with a wide selection of fresh produce on offer, as well as supermarket items, organic products and products specifically for foreigners. Some markets sell clothing, pottery and household goods as well.
Cheng Gong Market
At: Lane 192, SìWei Road, Da'an District, Taipei City 106 (near the Far Eastern Hotel)
Open: Tuesday to Sunday 07:30-14:00
Ching Guang Market
At: Lane 2, NongAn Street and Lane 12 Shuangcheng Street, Zhongshan District, Taipei City 104 (near Zhong Shan North Road, Section 3)
Open: Tuesday to Sunday 09:00-21:00
Chung Shan Market
At: No. 3, ChangAn West Road, Zhongshan District, Taipei City 104, near ZhongShan North Road, Section 1 (MRT red line, Zhongshan station)
Open: Tuesday to Sunday 09:00-15:00
Dong Men Market
At: 81, Section 2, XinYi Road, Zhongzheng District, Taipei City 100
Open: Tuesday to Sunday 07:00-17:00
Guang Fu Market
At: 146, Lane 419, GuangFu South Road, Xinyi District, Taipei City 110, near Hyatt Hotel, corner of RenAi Road and JiLong Road
Open: Tuesday to Sunday 07:00-16:00
Nan Men Market
At: No. 8, Section 1, Roosevelt Road, Zhongzheng District, Taipei City 100 (MRT Green line, Xiaonanmen station)
Open: Tuesday to Sunday 07:00-19:00
Shidong Market (Tianmu)
At: 1-2F No.100 ShiDong Road, Shihlin District, Taipei City 111
Open: Tuesday to Sunday 06:00-19:00
Shihlin Market
At: 60, Jihe Road, Shihlin District, Taipei City 111 (MRT red line, Jiantan station)
Open: Tuesday to Sunday 06:00-14:00
Tong Hua Street Market
At: 96, LinJiang Street, Da'an District, Taipei City 106, near Hyatt Hotel and Far Eastern Shangri-la Hotel
Open: Tuesday to Sunday 08:00-14:00
Ximen Market
At: No. 177, XiNing South Road, Wanhua District, Taipei City 108 (MRT blue line, Ximen station)
Open: Tuesday to Sunday 10:00-22:00
Xin Yi Market
At: No. 107, Section 3, XìnYì Road, Da'an District, Taipei City 106, near junction of XinYi Road Section 3 and Jian Guo South Road
Open: Tuesday to Sunday 07:30-14:00
Yong Chun Market
At: 294, SongShan Road, Xinyi District, Taipei City 110 (MRT blue line, Yongchun station)
Open: Tuesday to Sunday 07:00-20:00
Yong Ji Market
At: 30, Alley 1, Lane 278, YongJi Road, Xinyi District, Taipei City 110, near ZhongXiao East Road, Section 5, Tango Hotel (MRT blue line, Yongchun station)
Open: Tuesday to Sunday 07:00-13:00
Flea Markets
Sunday Go Flea Market
At: 1F, No.17, Section 1, Ren'ai Road, Zhongzheng District, Taipei City 10051
Open: Every day 09:30-18:00
Tianmu Flea Market
At: Intersection of Tianmu West Road, Tianmu East Road and Section 7, Zhongshan North Road, Shilin District, Taipei City 111
Open: Friday 16:00-22:00, Saturday 09:00-15:00 and 16:00-22:00, Sunday 15:00-22:00