The British Pound - Everything You Need to Know About The United Kingdom's Currency
Information on the British Pound denominations, exchange rates and currency transfers...
British Pound – everything you need to know about the UK's currency
If you need to make currency transfers to or from the UK you're going to need to get to grips with the British Pound.
In our handy guide we'll tell you everything you need to know about the Pound, plus some extra facts just for fun.
Pound denominations
If you've never handled Pounds before, here are the different denominations you'll come across.
Coins – 5 pence, 10 pence, 20 pence, 50 pence, 1 Pound, 2 Pounds
Notes – 5 Pounds, 10 Pounds, 20 Pounds, 50 Pounds, 100 Pounds
Fun(ish) fact... The British Pound is the oldest surviving independent currency.
What a difference a rate makes
Whenever you transfer money abroad exchange rates will come into play.
If you're familiar with exchange rates skip this section, but if you're new to the wonderful world of currency here's a quick explanation of what exchange rates are and why you should care about them.
An exchange rate is the value of one currency relative to another. So if you had Euros but wanted Pounds, the EUR/GBP exchange rate would tell you how many Pounds you'd get for each Euro.
Unfortunately exchange rates are always moving, which means the value of the Pound to the Euro varies over time.
Even a seemingly small discrepancy in the exchange rate can make a big difference if you're buying Pounds, and the difference becomes more pronounced when you're transferring larger amounts.
For example...
| | | | |
| --- | --- | --- | --- |
| Currency pair | Transfer amount | Exchange rate | Total |
| EUR/GBP | €250,000 | 0.88 | £220,000 |
| EUR/GBP | €250,000 | 0.84 | £210,000 |
| | | Difference | £10,000 |
As you can see, securing the right exchange rate for your currency transfer is key!
Fun(ish) fact... The symbol £ is used to denote the British Pound. The symbol came from the Latin alphabet 'L' which stands for Libra - the Latin for Pound.
Historic Pound movement
Exchange rates can move by as much as 5% in a matter of days during periods of heightened volatility (political shifts, economic crises etc.) but if we look back over 10 years you can see just how much rates can change.
EUR/GBP
In the last 10 years the EUR/GBP exchange rate has hit lows of 0.6941 and highs of 0.9427 – a difference of 24 pence - or £24,860 on a €100,000 transfer!
USD/GBP
The USD/GBP exchange rate, meanwhile, has traded at both 0.5827 and 0.8701 over the last decade – a movement of 28 pence.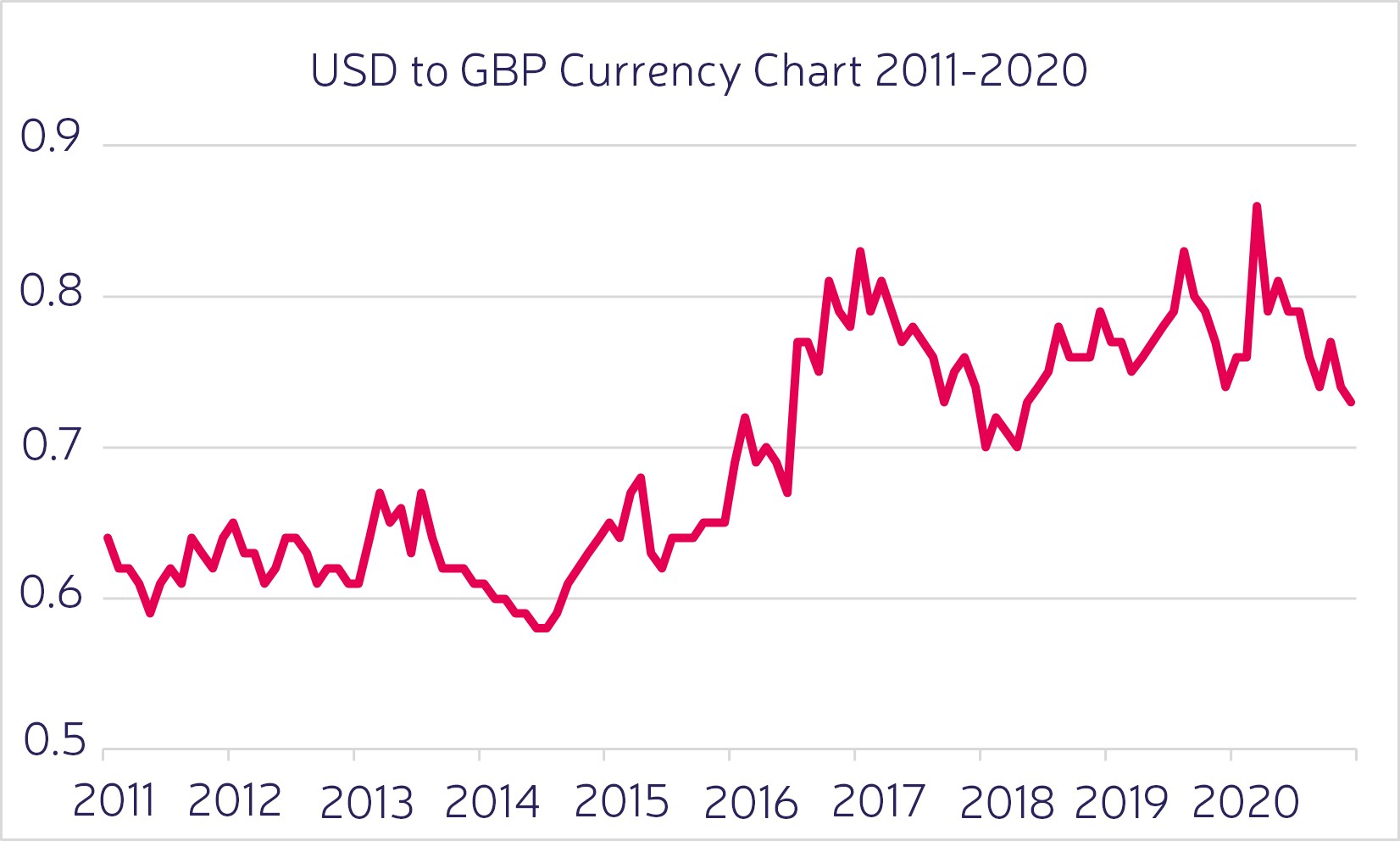 Both of these examples show that the Pound is weaker now than it was ten years ago, meaning you'd get less GBP for your money now than you would have back then.
Fun(ish) fact... The English expression 'spend a penny' means going to the bathroom, and it originated from the need to pay one penny for the use of a public WC.
What causes Pound movement?
So we've established that Pound exchange rates can move quite a bit. But what causes them to move?
Different things cause movement in different currencies, but there are several drivers for GBP fluctuations.
Bank of England (BoE)
The Bank of England (BoE) is the UK's central bank. The BoE's interest rate decisions can be the catalyst for GBP fluctuations if monetary policy is adjusted. Even if policy is left unchanged, hints that it may be adjusted in the future can be enough to trigger a shift in the Pound.
Political developments
Political developments can have a significant impact on the Pound. General elections, political dramas and influential votes (most notably the EU referendum) have all been the cause of GBP volatility.
Domestic data releases
UK data releases had a bigger impact on GBP movement before the Brexit vote, but they can still inspire Pound movement. The most influential UK data includes inflation, employment, retail sales, and services/manufacturing/construction PMIs.
Pound currency transfers
Our top tips
1. It pays to be aware of the fact that the exchange rates quoted online are often the 'interbank' rate. This is the rate at which banks and financial institutions buy currency and is not available to private individuals or businesses, so it can be misleading.
2. Look into your options and explore different providers. While using your bank might seem like the easiest option, currency specialists are likely to offer better rates and more tailored support and services.
3. The currency market is always moving so it's important to keep an eye on what exchange rates are up to if you want to move your money at the right time.
4. There are lots of different currency transfer services available – keep reading to find out all about them!
5. Don't leave planning your currency transfer to the last minute. By giving yourself time to look into all your options you could get more for your money.
GBP currency transfer services
If you need to transfer money to the UK there are a number of services you can use to help you get more for your money.
Currency service

What do you need to know?

Spot contract

Use a spot contract when you need to move money 'on the spot'. Transfers will be made at the current exchange rate and will take between 24-48 hours depending on the country and currencies involved.

Forward contract

Fix an exchange rate up to two years ahead of making a currency transfer.

While fixing the rate in this way would mean you'd miss out if the exchange rate strengthened, you'd be protected from any negative shifts.

Limit order

Target a stronger exchange rate. Set the rate you want to achieve and your transfer will be triggered automatically if the market hits that level.

Rate alert

Set your target rate and get notified by text or email if the market moves to that level.

Regular payments

Automate regular overseas transfers. Remove all the hassle and benefit from excellent exchange rates and no transfer fees.

Currency wallets

Some international payment specialists allow you to buy currency in advance and keep it in a currency wallet until you need it. This allows you to take advantage of favourable rates and can speed up future transfers.
Pound currency transfer FAQs
How long do currency transfers to the UK take?
The speed of your currency transfer will depend on the provider you use and the countries/currencies involved. A EUR/GBP transfer should typically take between 24-48 hours, although it can be quicker if you have funds on account.
Is transferring money to the UK safe?
As long as you use a reputable provider your transfer should be safe and secure. Look for a well-established currency provider who's regulated by the right bodies and has good online customer reviews.
How much do currency transfers to the UK cost?
If you use a bank to move money to the UK you may be charged a transfer fee. This can be a flat rate or a percentage of the transfer amount.
Some specialist transfer providers don't charge anything outside of the exchange rate they quote, and as they work on smaller margins than banks you'll receive a more competitive rate.
What is a margin and how does it affect my exchange rate?
Banks and other large financial institutions buy currency at the interbank exchange rate and add on a 'margin' before selling it on to consumers. The larger the margin applied the less competitive the exchange rate, and the less you'll receive.
How much can I transfer to the UK?
Again this depends on the provider you use, but many have no upper transfer limit when it comes to moving money to the UK.
This information has been provided by TorFX
If you need to move money to or from the UK our currency partner TorFX can help.
TorFX have been offering their customers great exchange rates, no transfer fees and personal account management since 2004.
They've won the Moneyfacts Consumer 'International Money Transfer Provider of the Year' award for six years running (2016 – 2021) and hold an 'Excellent' five-star rating on Trustpilot.
Get a quote now to find out how much you could save.
You can also create an account with them in two minutes online or over the phone. Once you've created an account you'll be able to check live exchange rates 24/7 and make fast, hassle free currency transfers.