Burns Supper (1/27)
from Jan 27th 2018 to Jan 27th 2018
19:30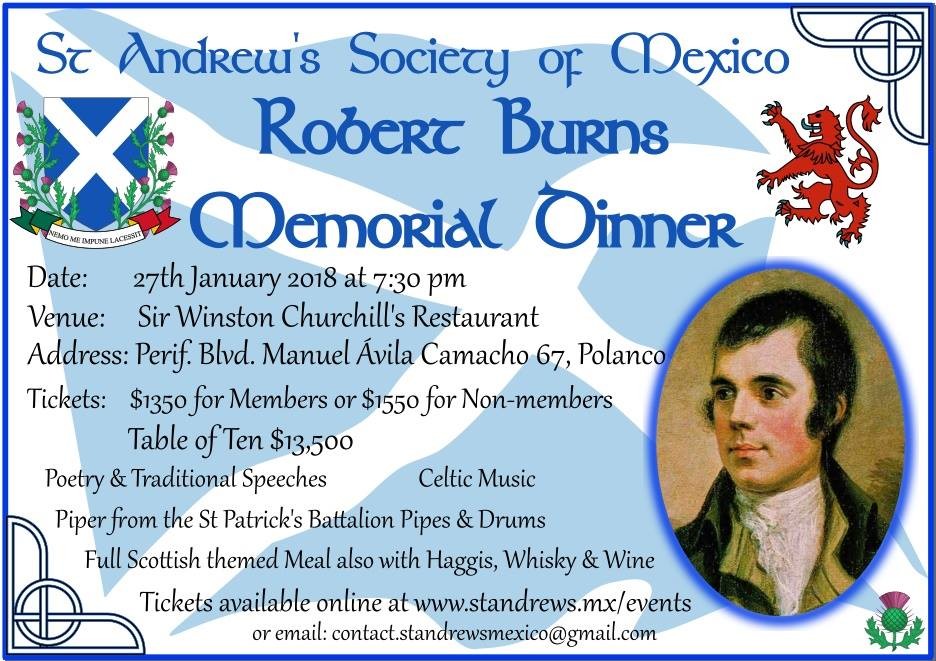 Burns Supper 2016 (Churchill's Restaurant, Polanco)
Event Date: Saturday 27 January 2018.

Event Details:
Join the St Andrews Society in Mexico for their Burns Formal Supper - haggis, wine and whisky are to be expected!
For more information, please click on 'Visit Website'.
Event Time: 19:30

Tickets:
- MXN $1,550 Non-members
- MXN $1,350 Members
- MXN $13,500 Table of 10

Payment can be made online by Paypal on the St Andrews website (click on 'Visit Website') or by contacting the Society (click on 'Enquire Now').
Event Venue: Churchill's Restaurant, Blvd. Manuel Ávila Camacho 67, Col. Polanco, Del. Miguel Hidalgo, 11560 CDMX (nearest metro: Polanco)