TAAL TAAL
The Taal Taal institute offers training courses in Dutch, English, French, German, Turkish and 15 additional languages. Small group classes or one-on-one private lessons. Accelerated and immersion courses. Easily accessible from Rotterdam area.
Taal Taal offers training in 20 different languages at all skill levels (beginner, intermediate, advanced).

Group language courses (10-12 weeks long) start 3 times per year: January, April and September.
Dutch Immersion Courses (2 weeks) start twice each month.

Private Lessons can start at any time based on students schedule.
Taal Taal offers language training courses in...
Arabic | Brazilian | Chinese | Dutch | Danish
English | Farsi | French | German | Greek
Hebrew | Indonesian | Italian | Japanese
Norwegian | Portuguese | Russian
Spanish | Thai | Turkish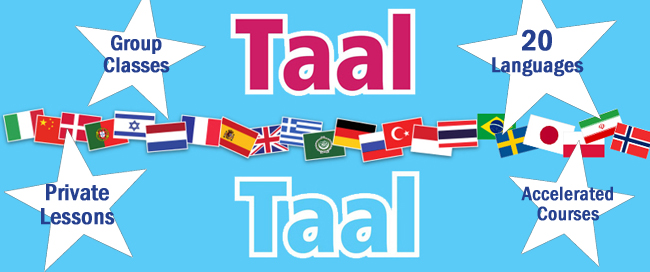 Taal Taal is located in The Hague at Hoge Prins Willemstraat 226 E in Scheveningen and is easily accessible by public transportation:
from Den Haag HollandSpoor take Tram 1 to Duinstraat
from Den Haag Centraal Station take Tram 1 to Duinstraat OR Bus 22 to Prins Willemstraat
Please mention you found us on Angloinfo!