TAAL TAAL
Want to learn Dutch? Improve your French skills? Speak English more fluently? Taal Taal offers training in 20 different languages. Day and evening classes, private lessons, accelerated courses. School located in The Hague Scheveningen.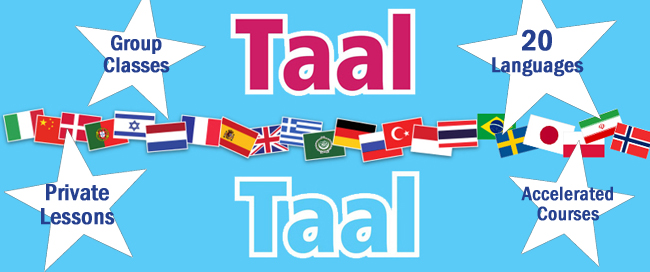 Taal Taal is focused on providing students with a quality education by experienced, native-speaking teachers who have a passion for their language.
Small Class Size

At Taal Taal, it is important that every student gets the attention they deserve. For this reason, classes will never have more than 12 students. This ensures no one is left behind and that everyone understands the concepts being presented, whether it relates to pronunciation, vocabulary, grammar, writing or conversation.
Dutch Immersion Courses

TaalTaal has developed a highly effective Dutch language training program first introduced in 2015. If you want to learn the language in just 2 weeks, the Dutch Immersion Course is for you! 75 hours of classroom language training over 10 days. Dutch Immersion is available at 3 different skill levels:
complete beginner
intermediate level
inburgering (Dutch social integration)
Find out more about TaalTaal's Dutch Immersion Courses
Private Lessons

Private lessons can begin at any time based on what the student need. In theory, private lessons can be made available in all of the languages Taal Taal offers, but the most commonly requested private language training includes Dutch, English, French, Spanish, Russian and Portuguese.
Find out more about Taal Taal's private language lessons.
Intensive Courses

Intensive courses are offered in all languages and consist of 15 hours of contact time which is spread across 1 or 2 weeks, based upon the student's preference.
Find out more about Taal Taal's accelerated language courses.
Languages Offered
You can follow TaalTaal on Facebook or join the group Expat Community of The Hague
Please mention you found us on Angloinfo!
OPENING TIMES
Day and evening courses